Equal Pay Day: Raising minimum wage will help women – and the economy
Women – and their families – are disproportionately affected by the low US minimum wage. Equal Pay Day serves as a stark reminder of that reality. Raising the minimum wage would boost the economy, and it would help close the gender wage gap.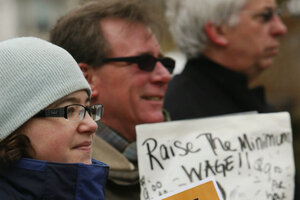 Derek Gee/The Buffalo News/AP
For more than three decades, Amie Crawford was a successful interior designer, transforming residential and commercial spaces in Washington, D.C. and North Carolina. Her team was even shortlisted to renovate the Pentagon.
In 2011, she moved to Chicago to be close to her family. For months, she scoured job postings, attended job fairs, and sent out dozens of resumes. The recession, however, proved insurmountable. The 56-year-old had to settle for a restaurant job at $8.25 an hour, the minimum wage in Illinois. Fourteen months later, Ms. Crawford is barely getting by. She draws on her retirement savings daily and receives $150 in food stamps monthly.
Crawford isn't alone. Millions of Americans make the federal minimum wage of $7.25 an hour, don't have any savings, and have to support a family, to boot. They toil tirelessly for a wage entirely divorced from living costs in today's economy.
America's workers are shouldering more but receiving less. A full-time minimum wage employee earns $14,500 a year, roughly $4,000 below the poverty line for a single mother with two children. If the minimum wage had kept pace with inflation since 1968, it would now be almost $10.60 an hour. If it had kept pace with increases in employee productivity, it would now be $22.00 an hour.
Countless workers are harmed by these low wages, women especially. Today, Equal Pay Day, serves as a stark reminder of that reality. April 9, 2013 marks how far into 2013 a woman must work to match what a man earned in 2012. Women represent nearly two-thirds of all minimum wage workers and are a large majority of workers in the 10 largest occupations typically paying less than $10 an hour: They constitute 88 percent of home health-care professionals, 88 percent of maids and housekeepers, and 94 percent of childcare workers. They also represent about two-thirds of tipped workers – and the tipped minimum cash wage of $2.13 per hour hasn't been raised for more than 20 years.
---