Immigration reform needs flexibility on work visas
The US system for work visas hasn't changed much since 1965, despite fluctuations in the economy and in demand for foreign workers. Immigration reform must include more flexibility. One way is to create an independent body that regularly advises Congress on visa limits.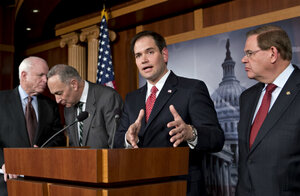 J. Scott Applewhite/AP/file
As Congress once again considers a fundamental overhaul of US immigration policies, one diagnosis is widely accepted: The immigration system is badly out of date. Nowhere is this clearer than in employment-based immigration – the part of the system that admits people to meet specific labor-market needs or otherwise contribute to the economy. The basic architecture of the work-visa system dates from 1965, and with the exception of one major amendment in 1990 and a couple of tweaks in 2000 and 2004, it has remained largely static.
During this time, seismic shifts have taken place in both the United States and global economies. The growth of the high-tech and knowledge-based service industries has created new demands for skills that the US education system struggles to meet. Globalization has opened new markets for many US firms and industries, while putting others under much more competitive pressure than they previously faced.
The demographic balance has shifted profoundly, with retiring baby boomers set to put public finances under strain and make a dynamic economy all the more important. At the same time, the growth of the middle classes in newly industrialized countries – such as China, India, and Brazil – and also major emerging players such as Mexico, Turkey, and Indonesia has dramatically diversified the global talent pool.
In other words, the argument for using immigration as a strategic policy tool to boost American growth and living standards has never been stronger.
Major immigrant-receiving countries across the world have responded to this new environment by testing and adapting policies to attract, select, and retain the workers they need.
---