Why I'll run the Boston Marathon again in 2014
Angry people set off the bombs at the Boston Marathon. We runners are angry, too, but we're going to use that as fuel to train harder and become better at the sport we love, so when we show up in 2014, we'll be ready to do our best in memory of those who fell on Monday.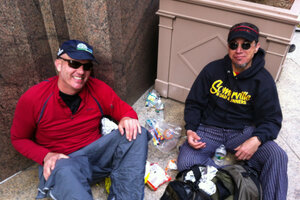 Photo courtesy of the author
For my 22nd marathon, I volunteered to guide visually-impaired runner Mike Merino in the Boston Marathon. We were part of the Massachusetts Association for the Blind's "Team With A Vision." Mike and I tethered ourselves together at the start in Hopkinton and then wove our way through crowds of runners to the finish on Boylston Street.
After I guided Mike across the line, we jammed ourselves in with hundreds of other tired, sweaty runners stumbling slowly forward to collect the medals commemorating our victory. We were a scrawny army wrapped in foil blankets – survivors of a war we'd fought in flimsy uniforms and boots padded with lightweight foam, armed only with bodies loaded with pasta, oxygen from a beautiful spring day, and determination. The fight to finish in under four hours had taken all we had.
Then there was an explosion. While we were still trying to convince ourselves that the first blast was just an accident, maybe a short in a power transformer or a gas leak, another one went off. We knew then, though it wouldn't be confirmed until much later, that the real war had intruded, the one with bombs, flying shreds of metal and glass, three tragic deaths, and more than 150 people injured.
My first response, and the first response of many of the people I know, wasn't fear. It was anger. We were mad, and are still mad, because running is our refuge, and it seems like someone is trying to take it away.
---