Could today's Iran election be a 1975 turning point?
It's difficult to predict how Iranians will react to this election. The peeling back of even the veneer of political choice and change may be the last straw for Iranians and eventually lead to another uprising, just as the shah's 1975 scrapping of political parties helped spur the 1979 revolution.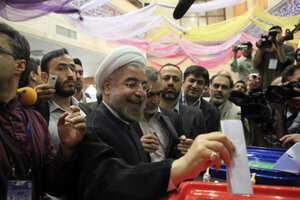 Yalda Moayeri/Reuters
Is today's presidential election in Iran a 1975 turning point?
That was the year when the shah of Iran, who seemed at the zenith of his power, decided to take down the facade of democracy that had been hiding the dictatorial nature of his regime. He dissolved the two political parties, popularly nicknamed "Yes" and "Yes, Sir," and replaced them with a single "Yes, Sir" party, called Resurrection. It set him on the road to his own downfall.
With this move, the shah basically gave Iranians three options: Join the party, leave the country, or go to prison. But Iranians recognized that a single party meant the end of any hope that the government would permit democratic reform. Overthrowing the regime became the only logical alternative for a people yearning for independence, freedom, and democracy. This simmering discontent eventually burst out in the 1979 revolution, by which nearly 3,000 years of monarchic despotism were brought to an end.
But the democratic revolution of nearly 35 years ago was hijacked by the ayatollahs, and now, Supreme Leader Ayatollah Ali Khamenei may be walking in the path of the hated shah.
As the shah abolished the two-party system, so has Mr. Khamenei abolished any semblance of a competitive slate of candidates for today's election. The Iranian Guardian Council, which vets presidential candidates, has eliminated those candidates who might have been perceived as having a reform or independent streak in them, including former President Akbar Hashemi Rafsanjani, whom the council declared unfit to run – to the dismay of reformists.
---