Why Wall Street should rethink its alliance with the GOP
In light of the US government shutdown and looming debt ceiling deadline, Wall Street should shift its traditional GOP alliance to Democrats. Republican extremism is threatening US credibility and markets. Wall Street's clout can help reshape America's fiscal future.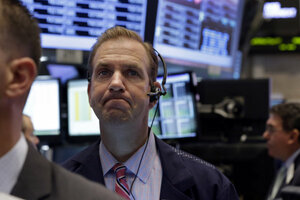 Richard Drew/AP/File
It is no secret that Wall Street likes the Republican party. The GOP's platform of low taxes and small government generally serves the business community very well, while the Democratic party's preference for higher taxes and more business regulation can be a thorn in the side of the private sector. During the 2012 presidential elections, Wall Street contributed three dollars to Mitt Romney for every dollar that it gave to President Obama, and in general the banking industry has favored the Republicans for decades.
However, in light of the government shutdown, ongoing budget battle in Washington, and looming debt ceiling deadline, it may be time for Wall Street to rethink its alliance.
There is no arguing that the US national debt is too high and that the current level of government spending is unsustainable in the long run. But as a recent report by the non-partisan Congressional Budget Office predicts, current budget cuts will not prevent a spike in the federal deficit again in 2016 (due to increased demands on Social Security and Medicare by an aging population).
The implication is that the budget cuts may not be the right ones to begin with. In addition, the Republican push to repeal or defund Obamacare is misguided, since the CBO's study of the health-care law has already determined that it will be deficit neutral at worst and would actually cost a lot more to repeal.
---