What the Apple dividend really pays out
The world's most valuable company, Apple, finally shares the wealth with investors. And Goldman Sachs tries to recover from the Greg Smith oped. The world of high finance is finally reckoning with its social purpose.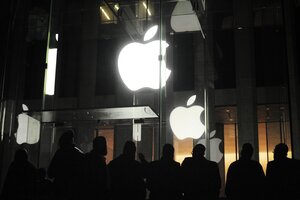 Jeffrey Furticella/AP Photo
The world's most valuable company, Apple Inc., hasn't paid a dividend to its investors since 1995 – that is, until Monday. [Editor's note: An earlier version of this story misstated Apple's record of paying dividends.]
Sitting on nearly $100 billion in cash – a sum that will only rise with the new iPad – Apple finally decided to share the wealth by paying $2.65 a share.
What makes a capitalist enterprise, especially ones with kitties the size of whole countries like Apple's, start to act in a more equitable way, and perhaps even help reduce income inequality?
The question has been coming up ever since the Great Recession. It is reflected in the presidential contest, new regulations over Wall Street, and the "Occupy" movement.
Last week, it came up again in a scathing opinion piece by former Goldman Sachs salesman Greg Smith. He wrote in The New York Times that the culture of his former employer had become "toxic and destructive," with so little regard for clients that they were mocked as "muppets."
The world of high finance is held in such low regard these days that it is easy to forget that it also provides a social good. Or that most of its workers are decent people who struggle to balance the making of profits with the making of a contribution to society.
To fix today's financial capitalism, writes Yale economist Robert Shiller in a new book, we all need "a more nuanced view of human nature as it is expressed in a financial environment."
In an economic system that is essentially good overall, he states in "Finance and the Good Society," we must accept that "there will be some less-than-high-minded behavior."
---