The Chicago teachers strike in an era of accountability
The Chicago teachers strike isn't only about pay and work hours. The union also opposes merit pay and stricter evaluation of teachers. The strike's outcome will influence the future of a national movement for accountability of public school teachers.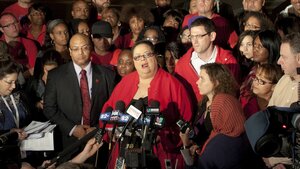 AP Photo
When public school teachers go on strike, it's usually over compensation or workplace rules. But the strike that began Monday in Chicago – involving 25,000 teachers in the nation's third-largest school district – has an added twist that makes this work stoppage worth a national spotlight.
Among other things, the striking teachers oppose plans to hold them accountable for what their students learn in the classroom. Given that the centerpiece of the Obama administration's education reform strategy is teacher evaluation, the strike marks a major pushback against a national movement.
Teachers are trained to be good judges of students but find it hard to be judged themselves. And indeed few schools have come up with effective ways to measure the quality of teaching and its effects on students. Much about learning – curiosity, imagination, teamwork, etc. – is too subjective to reduce to numbers. One big school reform, the 2002 No Child Left Behind law, faltered on this point.
Yet when a quarter of public school students still fail to graduate from high school – and those who do graduate have low skills in writing or math – parents, taxpayers, and employers insist on measurable standards for teachers. A few months ago, however, the Chicago Teachers Union rejected a district plan for merit pay. And in contract talks, it also opposes plans to beef up evaluations of teachers based in part on student test scores.
In many cities and states, teachers unions have squashed or watered down such evaluation proposals. Under President Obama, the federal Department of Education has dangled the carrot of money for school districts that adopt such plans. But it also requires unions to buy into them. Like Chicago, Milwaukee and New York recently ended an attempt to win federal grants to begin performance-based compensation plans after union opposition.
---