Integrity and the Harvard cheating scandal
Harvard University's investigation of alleged mass cheating in one class points to the difficulty of schools teaching integrity to students. Rules, honor codes, and courses on ethics can help. But much depends on individual character.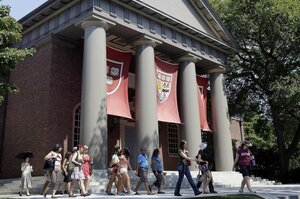 AP Photo
For a university founded 376 years ago to train leaders of integrity, Harvard still struggles to find the best way to do just that. Last month, it announced an investigation into whether more than 100 students in a class last spring may have worked together on answers for a take-home exam.
The rules for the exam barred collaboration with other students, but they allowed students to use the textbook and the Internet, and also consult with teaching assistants. Students, as most everywhere these days, were also encouraged to study together, a necessary preparation for today's group-oriented workplace. Many of the accused say they did nothing wrong.
Besides launching the probe, Harvard also responded by asking professors to be clear with students about rules regarding collaboration. Grades are given for individual performance even if working with others is encouraged. One's own work must be judged while the work of others must be credited.
Intellectual honesty remains the bedrock of academia, not to mention an essential in business and citizenship. Students who cheat may have plenty of pressures and excuses to do so, but any success they enjoy will eventually be undercut as others detect a lack of integrity.
Cheating often takes place in collaborative settings, which is why so many scandals have seen large numbers of people fingered. Last year, Georgia discovered 178 educators had facilitated Atlanta public school students to cheat. In 1976, over half of the junior class at West Point academy was found to have cheated on a case assignment.
---