Egypt's call for 'ethical duty' in Syria
The Middle East is truly a new place when an elected Muslim leader of Egypt speaks out in Iran on the need for the world to help free Syria. Such moral stands can have real results.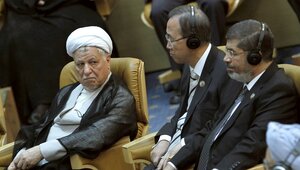 Mehr News Agency/AP Photo
Can moral force change world events? When it comes to ending the massacres in Syria and liberating its people, one would hope so.
A sign of that force playing out for Syria came Thursday in a startling moment. The newly elected leader of Egypt, Mohammed Morsi, spoke of the world's "ethical duty" to side with the Syrian people against an oppressive regime. His were not idle words.
Mr. Morsi, a former member of the Muslim Brotherhood, was speaking at the meeting of the "nonaligned" nations – many of whom are ruled by dictators – in Iran, which is also ruled by a de facto dictatorship. As the prime backer of Syrian dictator Bashar al-Assad, Iran's clerical autocrats could not help but note that the leader of Egypt, which was liberated last year, was asserting the moral momentum toward democracy in the region.
"Our hearts are bleeding for the Syrian crisis," Morsi said. "We have to be totally aware that this bloodshed will not stop if we do not actively intervene."
He was not alone in challenging the Non-Aligned Movement and others to act. India's prime minister, Manmohan Singh, asked the assembly body of leaders to take a stand on Syria based on "universally accepted principles."
---