With Syria imploding, is Hezbollah next?
Hezbollah's loyalty to the brutal regime in Syria is costing it support and exacerbating divisions in Lebanon. Its message runs contrary to the Arab Spring. If a link is found between the militant group and the bus bombing of Israeli tourists in Bulgaria, that makes it look even weaker.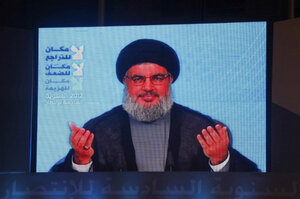 Sharif Karim/Reuters
Hours after the bombing that killed senior security officials in Damascus on July 18, Hezbollah's leader resolutely backed his ally, Syrian President Bashar al-Assad. But such support does not help this militant group, which relies so heavily on Syrian assistance.
The occasion for the remarks by Hezbollah Secretary General Hassan Nasrallah – delivered from the safety of his bunker in Lebanon – was the anniversary of Hezbollah's "divine victory" in the July 2006 war against Israel. However, there was nothing victorious about his televised appearance. It merely confirmed Hezbollah as increasingly out of touch with the Arab Spring – hastening its decline.
After the 2006 war, many Lebanese and many in the greater Middle East perceived Hezbollah as a legitimate and powerful military and political organization. Indeed, it has since gained the majority in Lebanon's coalition government.
But Hezbollah's unwavering loyalty to the brutal Assad regime places it on the wrong side of history – costing it support and exacerbating sectarian and political divisions in Lebanon. This is confirmed in my conversations with people in Lebanon and the region, and in the Lebanese and Middle Eastern media.
---