Bringing wisdom to Japan-China island clashes
Japan and China must de-escalate their dangerous nationalist conflict over 5 small islands with the diplomacy of restraint and patience.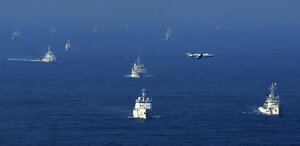 AP Photo/Kyodo News
When two people fight, they're both at fault, goes a Japanese saying. That bit of wisdom and much more is needed as Japan and China escalate their words and actions over five tiny islands in the East China Sea.
The islands, known as Senkaku in Japan and Diaoyu in China, will be of some value for potential petroleum someday. But right now they're really more of a proxy for a struggle of nationalist wills that could easily erupt in military confrontation.
The two East Asian giants are in desperate need of better diplomatic tools to make face-saving compromises. A hot line between Tokyo and Beijing would certainly help in case of any clash of warships or warplanes near the islands. So would concrete proposals on sharing seabed wealth and a rebuilding of the kind of personal ties between top leaders that was achieved during the 1980s.
Most of all, China and Japan must return to the wisdom of Deng Xiaoping, the late Chinese leader who advised China to keep peace with its neighbors while it lifts itself from poverty. "Hide your strength; bide your time," he said. And he also wanted to kick territorial disputes down the road to future – and perhaps wiser – generations.
The maritime wrestling match over the islands began two years ago with the collision of a Chinese fishing trawler and two Japanese coast guard ships. It escalated with anti-Japanese protests in dozens of Chinese cities in recent days. China also threatens to send hundreds of fishing vessels to the islands, guarded by armed government ships.
---