What Supreme Court missed on use of race in admissions
In its hearing on affirmative action at the University of Texas, the Supreme Court didn't weigh how much higher education can make itself more accessible to all.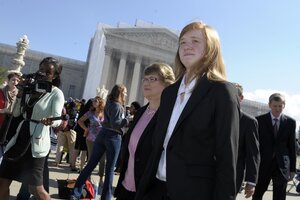 AP Photo
In a case heard Wednesday, the US Supreme Court justices were at odds over whether to end affirmative action in higher education. Should race still be a factor in university admissions? Or, as the other side argued, can the goals of diversity and racial justice be achieved without further discrimination?
No matter how this divided court rules, what was missing from the arguments was any challenge to the idea that higher education has so few openings that it must dole them out through preferences, whether by race or – an alternative path – by income.
This notion of scarcity has long pervaded the ivy halls of academia. And yet it is being challenged today as never before. Universities are being forced to change by advances in online learning, by competition from for-profit schools, by a parent rebellion over tuition, and by cash-strapped governments demanding proof of skills learned.
Schools wouldn't need to fight over issues like race if they would lift the perception of education as a limited good and adopt new ways to expand the pie of learning.
Take the online education revolution. It has already started to lower the costs of learning with economies of scale. Fewer professors in expensive buildings are needed when courses can be taught by Skype and other remote means. Like many industries, universities are facing the disruptive challenge of the Internet age.
---