Need for textbook examples of peace in Israeli-Palestinian conflict
A major, US-funded analysis of textbooks used in Israeli and Palestinian schools finds few examples of each side demonizing the other. Rather, inaccurate maps and lack of information show a need to educate the next generation toward reconciliation.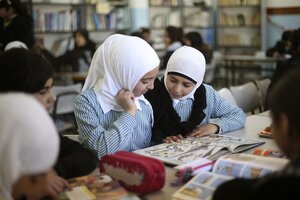 Mohamad Torokman/Reuters
When two peoples are in conflict, one path to peace is to write textbooks that don't further hate of the other. For today's school-age Palestinians and Israeli Jews, there's now some hope of that becoming true.
On Monday, a group of scholars released a three-year analysis of 94 Palestinian and 74 Israeli textbooks that found few characterizations that demonize or dehumanize the other side. And most of the schoolbooks were factually accurate. This is encouraging.
The study, funded by the US State Department, was conducted to help Israel and the Palestinian Authority create an atmosphere of reconciliation for the coming generation rather than use textbooks as a preparation for violence or continued estrangement.
"In this conflict, perhaps more than many others, this lack of recognition of the other's legitimate presence is a central obstacle to the respect and tolerance necessary for peace," the report states as a reason to reform the textbooks. "It's hard to imagine Israelis and Palestinians living in peace without their children learning more about the religion of the other."
The project, which looked at books used in Grades 1 through 12, was initiated by the Jerusalem-based Council of Religious Institutions of the Holy Land, a group trying to bridge differences between Jews, Muslims, and Christians. And indeed, the study found that the main problem in the textbooks was "a lack of information about the religions, culture, economic and daily activities of the other."
---