In Syria, US mission creep with moral creep
President Obama is leaning toward providing nonlethal military equipment to certain rebels in Syria. Doing so runs moral risks. But doing nothing to stop the violence is also a moral risk. Can the US walk this fine line?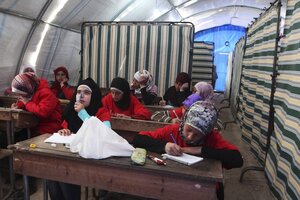 Hamid Khatib/Reuters
Secretary of State John Kerry said Monday that the United States would not leave the Syrian opposition "dangling in the wind" about American support for its democratic cause.
"We are determined to change the calculation on the ground for President [Bashar] al-Assad," Mr. Kerry said.
Note the words "on the ground." His comment hints at a major shift in President Obama's strategy toward Syria. On Thursday in Rome, some 100 nations that back regime change in Damascus will meet to decide how to increase their influence in the nearly two-year-long conflict in which neither side is winning.
Because of lack of direct intervention, the US and other countries are losing leverage with the opposition umbrella group, the Syrian National Coalition. And radical Islamic groups are gaining support. Pressure is mounting on the US to provide at least defensive military equipment, such as body armor, night vision goggles, and military vehicles.
If Mr. Obama moves toward providing such aid directly to rebels, he would enter a rabbit hole of moral choices. What if certain rebels have slaughtered pro-Assad civilians? What if they use such equipment for that purpose again? What if they pass US equipment to terrorist groups?
---