Behind the historic shift in poverty
A United Nations report on human development signals huge progress in reducing poverty. All the reasons for it may add up to a turnaround in attitudes among the poor about their future.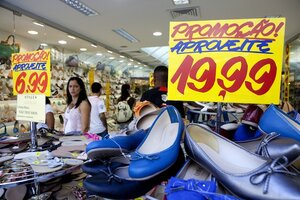 Melanie Stetson Freeman/The Christian Science Monitor
The share of the world's people living in extreme poverty has fallen by half – from 43 percent in 1990 to 21 percent in 2010, according to a new United Nations report, which also forecasts that by 2030 most of the world's middle-class people will be living in countries once considered poor.
"Never in history have the living conditions and prospects of so many people changed so dramatically and so fast," concludes the 2013 Human Development report from the UN Development Program.
And the breadth of this global shift is wide. No country has been left behind in the UN yardstick known as the "human development index," which measures social gains such as education.
Is the notion of a permanent "poverty trap" – such as a long-term lack of job opportunities – possibly being put to rest?
For much of history, despair often bred despair among the poor. "The anticipation of future poverty will exacerbate current poverty," says economist Esther Duflo of the Poverty Action Lab at the Massachusetts Institute of Technology and a new appointee to President Obama's Global Development Council.
In her field studies, Ms. Duflo often found the poor rejected help simply out of depression about their future. Farmers, for example, might refuse new types of fertilizer even if told it would aid their harvests.
The UN report suggests a possible end to this mental mire, with hope perhaps now breeding on hope.
"Hope operates as a capability," says Ms. Duflo. "A little bit of hope can allow people to realize their potential."
---