Israeli strike in Syria tips a civil war toward a global response
The Israeli strike in Syria represents a regional escalation that should push the UN or West to find a way to prevent a collapse of Syrian society. But first, the world must decide what would fill Syria's void. Democracy?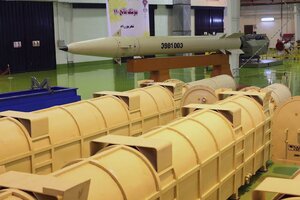 AP Photo/Iranian Defense Ministry/File
Israel's military airstrikes inside Syria over the weekend represent a dangerous widening of a two-year-long conflict. If these attacks now spur the West or the United Nations to intervene, then the battle for Syria's future will become far more than just another Middle East war zone. It will be global in scope. Such an escalation, however, will first require a clearer understanding of what is really at stake.
The Israeli attacks were preemptive and defensive in nature, aimed at preventing Iranian missiles from being shipped through Syria to southern Lebanon for possible use by Hezbollah guerrillas against Israel. And to add to the list of foreign hands now at work in Syria, Hezbollah and Iranian fighters are reportedly helping the Syrian Army. Meanwhile, arms from Qatar and Saudi Arabia are bolstering anti-regime rebels.
The big picture is that Syrian society is collapsing, resulting in a clash of ethnic, religious, and nationalist interests. The scorecard of players just goes on, complicating the calculations for a solution.
This complexity, however, should not be mesmerizing. The simple fact remains that the great hope of millions of Syrians in 2011 was simply to join the Arab Spring. They wanted civil rights, freedom, and democracy for their country – through peaceful protests.
---