Europe's ideals win a Serbia-Kosovo pact
An agreement approved Monday by Serbia and Kosovo will put an official end to 1990s genocidal conflict. It also serves as a model for ending other conflicts driven by ethnic, religious, and land disputes.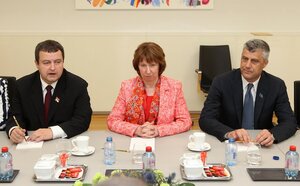 AP Photo
The original purpose of the European Union – to secure peace on a continent fed up with war – was demonstrated once again on Monday. An EU-brokered agreement was approved by Serbia and Kosovo that, in effect, puts to rest one of the most vicious wars of the 1990s – and, hopefully, the last one in Europe.
Under the landmark pact between former enemies, Serbia concedes legal authority to its former province while Kosovo grants wide autonomy to its minority Serb population.
To the world, the pact shows that peace is possible when issues such as land disputes, ethnic divides, and religious fears are minimized through negotiation in favor of the kind of universal ideals and common prosperity that the EU stands for. That lesson is badly needed right now in places like Syria, the Korean Peninsula, the North Caucasus, Congo, Myanmar (Burma), and the disputed waters of East Asia.
---