Why the UN must respond to rebels splitting Congo
Before rebels known as M23 split up Congo any further, the United Nations must help this giant African nation find a unifying identity. The same goes for Rwanda.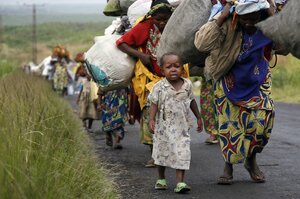 AP
Some countries that split apart should trouble the world's conscience more than others. Congo, as one of the largest and most violence-prone in Africa, is one of them.
Last week, a few thousand armed rebels known as M23 took over Goma, the most important city in the eastern part of Congo. Given that more than 5 million people have died in fighting there since 1997, the United Nations is right to be alarmed.
It is one thing if Spain's Catalonia or Britain's Scotland should split off. Separatism by voting, whether caused by ethnic or religious differences, doesn't usually entail violence. Europe knows by experience not to change borders by war. But a fracturing of Congo by arms might be akin to the current civil war in Syria, where Alawites and Kurds could splinter that country at the heart of the Middle East.
Congo lies at the heart of Africa and has long been burdened by killing over its vast mineral wealth, tribal hostilities, and interventions by troubled neighbors. Mass rape has become a favored tactic of armed groups. And UN peacekeepers in the eastern provinces, known by their acronym Monusco, have too often stood by as massacres took place.
---