How Europe can find its feet again
Now in its longest recession since World War II, Europe is the world economy's weakest link. But as it achieves financial stability, it must now focus on structural overhaul to spur innovation and worker retraining.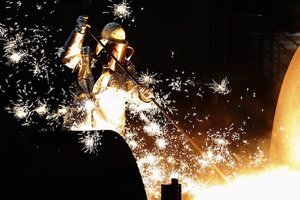 Reuters
In recent surveys on both sides of the Atlantic, top business executives gave a similar forecast: Europe and the United States are both losing their competitive edge. Of the two economies – which are the largest in the world – Europe is struggling the most to restore its edge.
It's a struggle the rest of the world cannot ignore.
The Continent is dealing with its longest recession since World War II. Many of its major economies are shrinking, even France. Germany, despite past reforms, had only 0.1 percent growth last quarter, revealing just how much it relies on its neighbors.
The European economy still commands a fifth of the global economy, but it is now its weakest link. Japan and the US are sporting a growth rate of more than 2 percent. Unless Europe can retool its workers, liberate its entrepreneurs, and finance its small businesses, China will reach or pull ahead of it in innovation by 2023, say a majority of European business leaders in a survey done by Accenture consultancy.
While European leaders have been able to stabilize financial markets and start to whittle down government deficits, the hard work of structural reform is still in progress. France, for example, just passed a measure that allows employers more leeway to lay off unneeded employees and encourage worker mobility.
"Just because there is zero growth across Europe doesn't mean there are not segments of good growth within that," stated Mark Spelman, strategy chief at Accenture.
---