Why EU-US trade talks should be about more than trade
As the European Union and the United States start talks for a transatlantic free-trade zone, they must see the opportunity to expand their common humanity as well.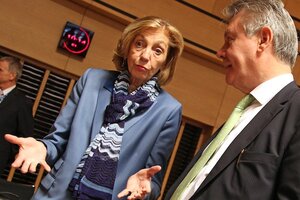 AP Photo
So much unites Europeans and Americans – in values, history, defense, and the flow of people – that it is not surprising they want more of it. On Monday, the United States and European Union opened talks to further conjoin the world's two largest economies by ending the remaining – and most stubborn – of their barriers to trade.
In effect, the two sides are asking, How can we be more alike? Such affirmative questions are important. Trade touches on many salient forms of collective identity, such as concerns about safety, privacy, or cultural expression. The talks should be about more than compromise for a deal that enhances exports (which is reason enough for them to succeed). They are also a search for common humanity.
The two sides must agree on norms for business behavior and consumer benefits, such as how to clean chickens or new rules for banks. They must strike a balance between liberty to do business and responsibility toward an expanding community. Both sides know the difficulty of forging a wider consensus – the US in binding 50 states together, the EU in reconciling the economies of 28 nations. That may make it easier to broaden the sense of community across the pond.
If the talks succeed by the 2015 target date, they will break down differences, not highlight them. That is quite rare in a world in which globalization and the Internet often highlight divisions by class, religion, race, gender, or civilization.
---