After Zimbabwe election, Mugabe needs a way out
The Zimbabwe election on July 31 appears rigged and could lead to a repeat crisis like that after a 2008 vote. The African nation needs a peaceful transition through some form of forgiveness.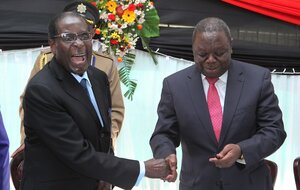 AP Photo
Forgiveness can be a powerful tool to end a conflict, whether in politics or diplomacy. Yet measures such as amnesty or pardon are too rarely used. They often lose to a desire for justice. One place where forgiveness might be an effective tool right now is Zimbabwe, an African nation on the brink of a critical election – and a potential repeat of mass violence.
Zimbabweans go to the polls July 31 to elect a president. The last election in 2008 saw the long-ruling president, Robert Mugabe, lose the ballot count. His security forces unleashed such postelection violence that the ballot winner, Morgan Tsvangirai, was forced to accept a submissive role as prime minister.
Now faced with possibly losing the vote again to Mr. Tsvangirai, Mr. Mugabe, as well as his top generals and the ruling party, are doing what autocratic regimes often do to stay in power: They are rigging the voting process.
The timing of this election was rushed by Mugabe on purpose, perhaps illegally. An estimated 2 million young people have not been registered. The voting rolls have the names of more than 100,000 voters aged 100 or older. These and other dubious tactics led Human Rights Watch to declare: "The chances of having free, fair and credible elections are slim."
---