Obama's global 'norm' on chemical weapons in Syria
President Obama made a strong pitch to Americans to join him in enforcing nonuse of chemical weapons. His methods – either by missiles or diplomacy – may be in dispute. But his goal fits a trend against mass and indiscriminate violence.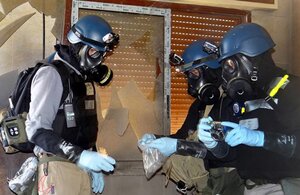 AP Photo
In his Tuesday address, President Obama asked Americans to support one goal: enforcing and preserving a global norm against the use of chemical weapons. His initial tactic was to threaten airstrikes on Syrian military targets. That has now led to a diplomatic drive for international control of Syria's poison gas munitions. Whichever way events go, Mr. Obama has nonetheless put his stamp on one of history's greatest causes: curbing dangerous weapons that kill indiscriminately.
The goal should not be forgotten in the days ahead.
In the long history of efforts at disarmament – from dealing with land mines to nuclear warheads – there have been few heroes. The task of arms control is lonely and complex. The benefits of peace are rarely recognized. The easy default among people and nations is to retain the means of mass violence. "The story of the human race is war," wrote Winston Churchill in 1924.
Early in his presidency, Obama was eager to reduce the number of nuclear weapons in the world, based on the goals of the 1970 Non-Proliferation Treaty. He even received the Nobel Peace Prize in large part for his stated aim. But he has made little progress. And after the killing of schoolchildren in Newtown, Conn., he tried to curb the possession of guns in the United States that are capable of mass killing. He has so far failed.
Syria is his next opportunity to lay down a "norm" against weapons that are highly lethal, impersonal, and often random in their slaughter. If he succeeds, it will result not only in fewer killings but will reinforce the progress that humanity has made to replace the use of violence in settling disputes with peaceful means of resolution.
---