Election 2012: Choose a future, any future
(Read article summary)
If you have diligently read the position papers, listened to the speeches, and watched the debates, by now you know a lot about both candidates for president. That's good citizenship -- but it doesn't necessarily mean the next four years will unfold the way you think.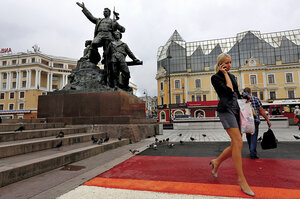 Vincent Yu/AP
The genre known as alternative history asks "what if?" What if the Spanish Armada had sunk the English fleet? What if the Confederacy had won the American Civil War? If JFK had not been assassinated? If Hitler had?
In the hands of a skilled strategist or storyteller, "alt history" is more than just a parlor game. It can show the far-reaching consequences of small events, making us appreciate our own time or lament what might have been. You can find alt history in everything from military analysis to thrillers like Robert Harris's 1992 novel, "Fatherland," to science fiction like "The Terminator," "Back to the Future," or the current time-bender, "Looper." Alter one or two events in the past, the formula goes, and the present becomes a very different place.
Washington political reporter Linda Feldmann explores two distinct futures that could branch from the Nov. 6 US presidential election. (You can read them here and here.) A second term for President Obama or a first term for former Gov. Mitt Romney would start with unique advantages and face unique challenges. But then things get interesting.
---