Election 2012: How Romney might lead on new Washington terrain
Romney White House scenarios beyond a top-down CEO approach. A two-part election 2012 report profiles the stark differences and interesting similarities of a second-term Obama White House vs. a Romney White House – either of which would have to deal with a highly polarized Congress.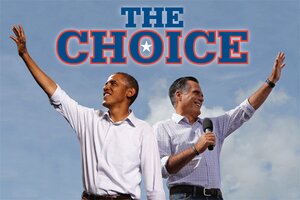 Staff illustration
If Mitt Romney wins the presidency, chances are the Republicans will also have swept Capitol Hill, holding onto the House and taking the Senate.
But history has shown that one-party control of the White House and Congress guarantees nothing – especially in the highly partisan atmosphere that dominates Washington.
And if the Republicans win the Senate, the majority will be slim. Democrat Harry Reid, as wily an operator as anyone on Capitol Hill, would become the Senate minority leader and could be counted on to use every legislative tool available to thwart a President Romney.
Any discussion of a Mr. Romney presidency lands on three key questions: Will the Republican former governor of Democratic Massachusetts, who has never served in Washington, be able to navigate the complexities of Congress, even with Republican majorities? What did Romney learn from his experience in Massachusetts, particularly in enacting health-care reform? And what do his struggles as a politician – a diffidence and opaqueness acknowledged even by his supporters – mean for his ability to build support for his agenda once in office?
---