Election 2012: How another Obama term might be different
Would four more years of Obama change the Washington dynamic? A two-part election 2012 report profiles the stark differences and interesting similarities of a second-term Obama White House vs. a Romney White House – either of which would have to deal with a highly polarized Congress.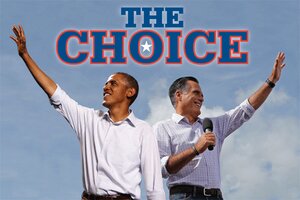 Staff illustration
Suppose President Obama wins reelection and the Republicans win control of at least one house in Congress. In other words, the status quo prevails.
Are Americans, therefore, in for four more years similar to the past two, defined by intense partisanship and gridlock? Or would Mr. Obama's reelection change the dynamic in Washington and pave the way for compromise?
Obama is asserting the latter. By definition, he has said in recent interviews, being reelected will put to rest Senate Republican leader Mitch McConnell's priority of making Obama a one-term president, and will add new fuel to Obama's agenda – to lock in place health-care reform, raise taxes on the wealthiest Americans, and cut subsidies for oil companies, to name a few of his goals.
"The American people will have spoken," the president told The Associated Press.
It is that vote of confidence, Obama hopes, that will bring Republicans back to the table ready to make a deal – not just on the critical "fiscal cliff" issues that must be resolved by the end of the year, but also toward a "grand bargain" on deficit reduction: spending cuts, including on entitlement programs such as Medicare, in exchange for Republican concessions on revenue.
---