Justice delayed -- and delayed and delayed
(Read article summary)
When pre-trial detention stretches on for weeks or months, a suspect's right to a "speedy and public trial" is undermined. In effect, a prison sentence is being served without the prisoner having been convicted.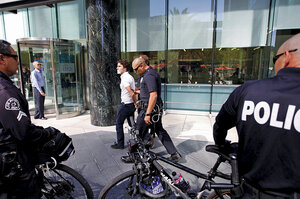 David McNew/Reuters
All of us go to court at some point, if only to fight a traffic ticket or do jury duty. In court, you can see an attorney eloquently pressing a point, a judge wisely guiding the judicial process, and "the people" rendering carefully considered justice.
That's in the ideal world, the world of "Law & Order" and "Perry Mason." Courthouses can also be dispiriting sinkholes where day after day lawyers, clerks, police, judges, parole officers, and social workers try to keep their heads up amid the wreckage wrought by violence, drugs, selfishness, and chronically bad choices. In a courthouse, humanity can too easily be reduced to perpetrators and victims. You can feel guilty just being there.
That's why it is all the more tragic when someone innocent is sucked into "the system" and becomes its victim.
In a Monitor cover story, Katy Reckdahl examines one particular problem with the judicial system: pretrial detention. An arrest can occur for any number of reasons – from suspicion of involvement in a major crime to an infraction that edges just over the line from misdemeanor to felony. If an individual cannot raise the bail money, he or she can get stuck in jail.
That wait can stretch for weeks or months as the case inches through a congested courthouse. In effect, imprisonment is taking place before the accused gets a fair trial.
There are half a million people in the United States in this predicament. Many of them, if eventually convicted, will already have served so much time in jail before their trials that they will not have to serve prison time. The tragedy is the innocent or those accused of small-time crime who get snarled in the system.
---