Carbon offsets: Green project offends Indian farmers who lose land to windmills
A Dutch bank that bought carbon offsets to neutralize its carbon footprint was unaware that poor Indian farmers had been aggrieved by the green project.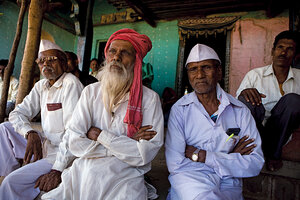 Melanie Stetson Freeman/Staff
This four-month multimedia investigation by reporters on five continents is a joint project of the Monitor and the New England Center for Investigative Reporting. It was funded, in part, by The Deer Creek Foundation.
Like his father before him, Yashwant Malche has worked the same piece of land on this parched plateau a day's drive and decades away from Mumbai. As an adivasi, or tribesman, he and his ancestors have been relegated to desolate land like this, mostly left out of India's modernization.
But in 2007, strangers came offering $4,000 and marking off his land. They said they'd build windmills, part of a power project built and sold – in part – to create profits from carbon offsets.
"That's the livelihood of my family, so I couldn't possibly sell...." Mr. Malche says he told them. "When I refused to take the money, the people said the windmill will stand there no matter what."
It did. The Dhule wind project brought the erection of about 550 windmills on land used by 2,000 adivasi. The tussle over the land resulted in a confrontation between stone-throwing tribesmen and truncheon-wielding police, bringing tear gas and arrests. Some 12,000 trees were cut to erect the turbines.
The footprint of one windmill took less than an acre from a corner of Malche's small farm. But the loss means he no longer earns enough farming and now must spend part of the year in another state working in sugar-cane fields. He used to own three sets of clothes, he now makes do with two.
The Dhule project is an example of the dark side of a new industry that harvests profits from green energy and carbon offsets through projects in developing countries. The eco-conscious buyers of carbon offsets rarely see the consequences of the projects.
---