Carbon offsets: Using the green cloak of 'certification' to sell
Marketing a lumber plantation in Panama, one company uses certified carbon offset claims as a green lure.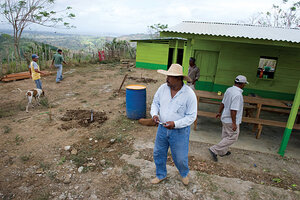 Mary Knox Merrill/Staff
It's an alluring offer: Plant trees in Panama. Create carbon offsets to help the environment. Then cut the trees and make lots of money.
That is the pitch of SilvaTree.com, a green-soaked website adorned with pictures of flourishing trees and children blowing dandelions.
Buy 660 trees in Panama for $32,500, the company promises, and you will get back at least $145,200 – a "guaranteed return" of 15 percent each year for two decades.
It is a "certified carbon offset project," the company's online promotion assures.
Except that it is not. Despite sales claims, the company says it's only in the process of applying for certification. But it claims to be in the process of applying for approval by the Voluntary Carbon Standard (VCS), which would – if the approval comes – offer buyers some assurance of the offset validity when the trees mature. The former deputy environmental minister of Panama leading the company's certification process, Eduardo Reyes, told the Monitor in a February interview in Panama City there's no guarantee that it will eventually be certified.
Using carbon offset certification and climate change as part of marketing and public relations aimed at investors hints at a larger problem in a burgeoning market with little oversight. And it concerns those in the industry who worry that inaccuracies at best, or fraud at worst, could blemish the reputation of the entire industry.
---