Is Dave Matthews' carbon offsets provider really carbon neutral?
Celebrities like Dave Matthews have used carbon offset provider NativeEnergy to help them be carbon neutral. But there's great debate about the company's method of selling offsets that have yet to happen.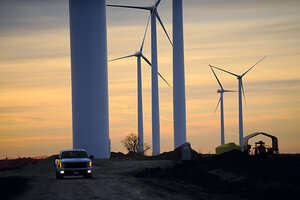 Newscom
NativeEnergy is the celebrities' choice in offset providers. But the stars might be hard-pressed to say what they are getting.
The Vermont for-profit carbon offset company lists among its eco-conscious customers Ben and Jerry's, the Dave Matthews Band, Jon Bon Jovi, the Democratic National Committee, and the makers of Al Gore's movie "An Inconvenient Truth." The company is a darling of many environmentalists.
But customers using NativeEnergy's online site to calculate and offset their current carbon footprint at $14 a ton are buying a promise that the environmental benefit will be delivered gradually over the next 20 years. Until then, their climate-changing emissions are not neutralized.
The company's model is unique, and controversial. NativeEnergy mostly sells offsets for projects that have yet to happen or are only in the works. What it calls a "help build" concept is not accepted by the leading independent certification organizations, which typically verify only carbon reduction emissions that actually have occurred. NativeEnergy sells its emission reductions upfront – and says they will be verified later, when they occur.
"It's unique because of the future-value question," acknowledges Bob Sheppard, head of Clean Air Cool Planet, the nonprofit that "retires" NativeEnergy's offsets to ensure they are not reused. Most offset companies sell the carbon reduction from a single year, Mr. Sheppard says. "They buy the life-cycle [of a project], estimating it will run 20 years."
---