The cap is off: why that is not a disaster in Gulf oil spill
BP uncapped its gushing well Saturday, allowing more oil to escape as the company tries to put on a better cap. But BP has other ways of capturing oil in the Gulf oil spill even without the cap.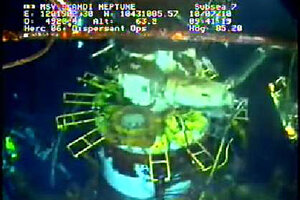 BP/AFP/Newscom
When BP removed its leaking containment cap Saturday, more oil began pouring into the Gulf – about 15,000 barrels of oil a day added to the Gulf oil spill.
But as early as Sunday, BP will begin ramping up a system that could begin collecting nearly double that amount – even with the containment cap off.
This system is separate from the new "sealing cap" that engineers are now trying to fit atop the failed blowout preventer. As a result, even if BP runs into trouble as it attempts to put on the more robust sealing cap – as past experience suggest is possible – the company could still be collecting nearly 35,000 barrels (1.47 million gallons) of oil a day in the meantime.
IN PICTURES: Louisiana oil spill
It means that the removal of the cap might not significantly worsen oil-collection efforts – even in the short term.
In fact, this separate system could collect a majority of all the spewing oil even without the cap, according to one estimate. Retired Coast Guard Adm. Thad Allen, who is overseeing the response effort, on June 18 said he thought the flow rate from the well was in the neighborhood of 35,000 barrels a day.
The ultimate solution – shutting off the flow of oil entirely by drilling a relief well – is currently slated for completion some time in August.
Introducing ... the Helix Producer
The new system set to come on line Sunday works independent of any cap because it involves a valve on the side of the blowout preventer called the "kill line." A ship called the Helix Producer, which can process about 25,000 barrels a day, will connect to the kill line. BP is already using the kill line's twin, the "choke line," to siphon about 9,000 barrels of oil a day to a ship called the Q4000.
---