Offshore drilling ban: Will revised moratorium appease courts?
The Obama administration released a new version of its moratorium on offshore drilling, saying the ban was needed to protect against the risks of another accident.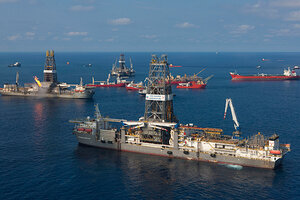 Marc Morrison/BP/AP
The Obama administration on Monday unveiled a retooled moratorium on deepwater drilling intended to withstand legal attacks by the oil and gas industry, which in May won a federal court injunction blocking an earlier six-month moratorium.
Just last week, a federal appeals court panel refused to grant an administration appeal to suspend the injunction.
To blunt the industry's argument that it is being "arbitrary and capricious" in its decision to suspend all deepwater drilling, the Department of Interior is trying a new tack.
Under its revamped plan, the "new suspension" no longer cites the depth of water to define what drilling is banned – but rather bans drilling by any floating deep-water drill rigs – a critical substitution.
The administration had not been able to convince the federal judges that all drilling in water over 500 feet deep is dangerous. But focusing on equipment designed to operate in deeper water has the same effect, showing little sign that the administration was backing down in the face of claims that the suspension is causing big economic damage to the Gulf economy, analysts said.
"We reiterate our expectation that continued 'safety first' messaging from the White House will continue to trump explicit political concerns related to [Gulf of Mexico] job losses," wrote Kevin Book, an energy analyst with ClearView Partners, a Washington-based energy policy firm in an analysis of the decision.
---