Final 'kill' of Gulf oil spill well set to begin this week
BP said its 'bottom kill' to plug the Gulf oil spill well permanently should start later this week. BP also deposited its first installment – $3 billion – in the Gulf escrow fund.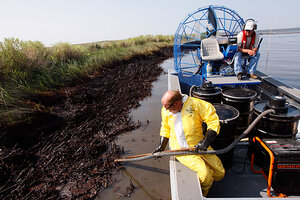 Patrick Semansky/AP
Nearly four months after the Deepwater Horizon drilling rig exploded in the Gulf of Mexico the struggle against the BP oil spill is nearly finished, in one sense. BP's ruptured well is no longer leaking. It hasn't leaked since July 15, in fact.
With the well capped from the top, BP is now moving in for the final bottom kill – completion of a relief well that should seal the problem for good. On Monday administration officials announced that sometime late this week the teams drilling the relief well should be in position to penetrate the original Macondo well shaft.
"What is clear is that the battle to stop oil from flowing into the Gulf is just about over," said President Obama on Monday at a White House ceremony honoring the Super Bowl champion New Orleans Saints.
But the war against the BP spill, the worst environmental disaster in US history, will continue, say administration officials. They say the struggle to clean up the mess and restore the livelihoods of tens of thousands of people in the Gulf region has just begun.
---