Gulf oil spill to blame for oily blobs in vital Gulf sea life?
Researchers found orange blobs in blue crab larvae in May. The discovery is part of a push to understand what effect the Gulf oil spill is having on the foundations of the Gulf food chain.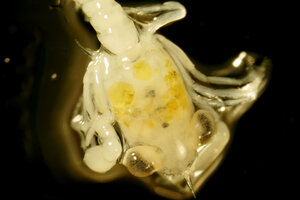 USM Gulf Coast Research Laboratory/AP
To find out how the food chain has been affected by the Gulf oil spill, marine scientists are closely monitoring this year's spawn of blue crab – a key kind of plankton – in the Gulf of Mexico.
In late May, marine biologist Erin Grey, a post-doctoral researcher at Tulane University, discovered oily orange droplets inside blue crab larvae she collected in areas affected by the BP oil spill.
Eighty percent of crab larvae samples collected from an area of the Gulf stretching from Louisiana to Florida showed evidence of the orange substance, which initially tested positive for hydrocarbons, says Dr. Grey, who along with other Tulane researchers, is collaborating with the University of Southern Mississippi's Gulf Coast Research Laboratory.
More blue crab larvae with the orange blobs were recently collected off Grand Isle in Louisiana, she adds.
"This is something that researchers with decades of experience have never seen before, and we think it must be linked to the spill," says Grey.
---