Global weather: 2010 in running to be warmest year on record
If November and December temperatures stay relatively warm, 2010 could capture the record for warmest year, an early analysis shows. This year has also been marked by extreme weather events.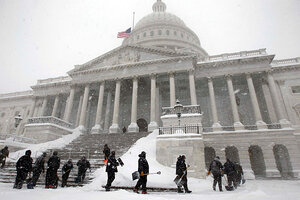 Kevin Lamarque/Reuters
This year is on track to enter the almanac as one of the three warmest years on record globally, along with 1998 and 2005, according to a preliminary analysis by the World Meteorological Organization.
Not only that, but 2010 stands a decent chance of capturing the record, depending on temperature data from November and December, according to Michel Jarraud, secretary-general of the WMO. Global average temperatures for the first 10 months of the year are running slightly ahead of those for the same period in '98 and '05, he noted during a press briefing Thursday at UN-sponsored climate talks under way in Cancun, Mexico.
Preliminary temperature data for November are comparable to temperatures seen in November 2005, indicating they have remained near record levels as the year winds down.
Even if 2010 fails to capture the top spot, the first decade of the 21st century already has gone into the books as the warmest since 1850, when the instrument record began.
The data are part of the WMO's annual roundup of global weather activity, especially extreme events such as floods, heat waves, deep cold snaps, and severe storms.
Some climate scientists caution that any one year's worth of events is driven more by natural variability than by long-term warming triggered by the released of carbon dioxide from burning fossils fuel. But when 2010's extreme events are seen in that broader context, they appear to fit long-term patterns the climate models have generally projected for a climate system responding to increasing atmospheric concentrations of greenhouse gases.
---