'War on coal'? Why Obama might not be industry's worst enemy.
Environmental regulations by the Obama administration come at a cost to coal plants and mines, but the rise of cheap natural gas appears to be a greater threat.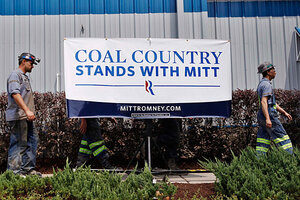 Shannon Stapleton/REUTERS/File
Deep in the heart of Ohio coal country, Mitt Romney and Paul Ryan are on a campaign bus tour that hits President Obama for environmental policies they say are responsible for shuttering coal-fired power plants and the mines that feed them.
It's a message that could resonate in Ohio and other coal-producing states. In a regional 30-second television ad aired last week called the "War on Coal," one coal worker says "Obama is ruining the coal industry." Another in a hard hat says White House policies are "attacking the coal industry." The ad features Mr. Romney telling ranks of miners, "We have 250 years of coal; why wouldn't we use it?"
Striking the same theme, the Republican-controlled House of Representatives on Friday passed a bill dubbed the Stop the War on Coal Act to roll back environmental laws that affect the fossil-fuel industry, although the Senate will almost certainly block it.
To be sure, environmental regulations designed to make coal-fired power plants cleaner are raising costs for the industry and having an effect, but the "war on coal" is coming less from the Obama administration than from natural gas, say some experts.
---