EPA unveils 'historic' air pollution rules. Can power industry cope?
The EPA says its new rules to drastically reduce toxic air pollution will improve national health at a minimal cost. But the power industry says the rules could hurt the economy.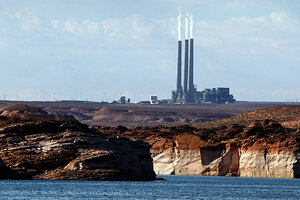 Ross D. Franklin/AP/File
Environmentalists and health advocates received an early Christmas present Wednesday when the US Environmental Protection Agency announced new federal clean-air regulations that promise to vastly reduce emissions of mercury and other toxic pollutants from the nation's power plants.
The limits, which come two decades after Congress ordered the EPA to control toxic air pollutants, have been hailed as historic by supporters. But industry groups say they unduly harm the economy.
The new Mercury and Air Toxics Standards (MATS) are expected to cost utilities about $10 billion a year as they install emissions-control equipment between now and 2016, the EPA estimates. Several dozen elderly coal-fired power plants also might have to be shut down.
But the EPA estimates at least $59 billion in annual financial savings from reduced health-care costs.
"The Mercury and Air Toxics Standards will protect millions of families and children from harmful and costly air pollution and provide the American people with health benefits that far outweigh the costs of compliance," EPA Administrator Lisa Jackson said at its unveiling.
The standards will be the first nationwide limits on the amount of mercury and other toxics – such as arsenic, nickel, and cyanide – released from power-plant smokestacks. But the wheels of regulation began grinding in 1990 with the passage of the Clean Air Act Amendments.
Since then, the EPA has targeted mercury emissions from all high-emitting sources except power plants. When fully implemented, MATS rule reduce mercury emissions from coal-fired power plants by 91 percent.
---