How reliable are drought predictions? Study finds flaw in popular tool.
Researchers say the Palmer Drought Severity Index, devised for monitoring short-term trends, has been misused for longer term analyses and is thrown off by higher temperatures from global warming.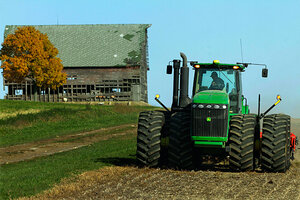 Seth Perlman/AP/File
The inappropriate use of a metric for measuring drought has led some studies to overstate a trend over the past several decades toward more frequent, intense droughts, according to a new analysis. The trend has been attributed in no small part to global warming.
The authors of the paper caution that the metric's continued use is likely to overstate future effects as well, making it more difficult for water resource managers and others to get reasonable projections of future drought hazards as the climate warms.
The study does not make those projections. Nor does it focus on assessing recent or current droughts, such as this year's drought in the US – the most extensive and severe in at least 25 years, according to the US Department of Agriculture. Instead, the study is a cautionary tale about using the right tool for the right job.
More broadly, and consistent with a wide range of other research, "our work on 21st-century drought [shows] that there are regions of the world that are going to experience more drought" as global average temperatures continue to rise during this century, says Eric Wood, a professor of civil and environmental engineering at Princeton University in Princeton, N.J., and a co-author of the study, which appears in Thursday's issue of the journal Nature.
---