3D TV? What are Sony and Samsung up to?
Sony and Samsung announced intentions to enter the 3D TV market.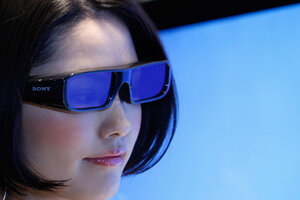 YURIKO NAKAO/REUTERS
Sony and Samsung announced plans to introduce 3D televisions in coming months, betting they will become the next hot products in an increasingly crowded electronics industry.
Sony Corp hopes 3D models will make up 10 percent of more than 25 million LCD TVs it aims to sell in the next fiscal year.
The maker of the PlayStation 3 game console also plans to release 3D game software in time for its 3D TV launch in June.
Samsung Electronics Co Ltd, the industry leader for flat-screen TVs, will begin U.S. sales of 46- and 55-inch 3D TVs this month, with other models coming over the next several months.
"It will likely be ardent game players who will first buy 3D TVs as an early adopter," said analyst Alex Oh of Hanwha Securities in Seoul. "In that sense, Sony, which is envisioning a comprehensive entertainment company, will take advantage of its game business, contents and movies, compared with Samsung and LG, which remain focused on hardware."
We're number two
Sony is vying with LG Electronics Inc for the position as the world's No. 2 flat TV maker.
---