Michael Jackson tributes: Michael Jackson fans around the world honor his memory
Michael Jackson fans are holding tributes worldwide. Michael Jackson passed on a year ago. Vigils, prayers, and music are part of the Michael Jackson tributes.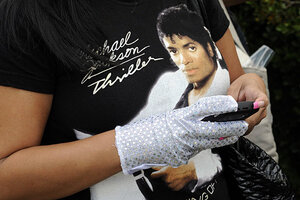 Gus Ruelas/Reuters
A year after Michael Jackson's death caused a worldwide outpouring of shock, tears and tributes, the anniversary of his passing was being marked Friday on a quieter scale, as fans remembered their fallen King of Pop with vigils, prayer and, of course, music.
Some radio stations woke up listeners to Jackson's music; on U.S. television, all the major networks devoted a portion of their morning news programs to Jackson and more coverage was expected during prime-time hours. Events were planned across the globe, from Tokyo to New York.
Jackson's burial place at Forest Lawn in Glendale. California, was expected to draw not only a throng of fans, but family as well.
IN PICTURES: Michael Jackson: King of Pop
Jackson died on June 25, 2009, at age 50 as he was preparing for a series of comeback concerts in London. Dr. Conrad Murray is charged with involuntary manslaughter in Jackson's death for administering the powerful anesthetic propofol to Jackson to help the pop star sleep.
---