Salma Hayek and others ruin movie experience with 'Grown Ups'
Salma Hayek and Adam Sandler make a ridiculously unfunny movie. 'Grown Ups' is not worth the time or money.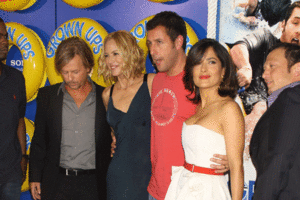 NEWSCOM
Shockingly inept even by the standards we've come to expect from a Happy Madison production, "Grown Ups" feels as if it were made without considering whether an audience would ever actually see it.
It assaults us with an awkward mix of humor (which is rarely funny) and heart (which is never touching), but even more amateurishly, it features copious cutaways to characters laughing at each others' jokes. For long stretches of time, Adam Sandler and Co. sit around a New England lake house goofing on each other, telling stories and reminiscing about old times. Given that these other characters are played by Kevin James, Chris Rock, David Spade and Rob Schneider, you would hope that some of the lines would work (from James and Rock, at least).
One gets the distinct impression that these guys, four out of five of whom are "Saturday Night Live" alumni, improvised most of their insults and one-liners, and there just happened to be a camera or two rolling. (Sandler and Fred Wolf are credited with having written the script.) But then Dennis Dugan, director of such ignominious Sandler films as "Happy Gilmore," ''You Don't Mess With the Zohan" and "I Now Pronounce You Chuck & Larry," incessantly cuts between them admiring each others' zingers.
---