Oprah Winfrey for Senate? Blagojevich considered it.
Oprah Winfrey came up in discussions by Illinois Gov. Rod Blagojevich about who should fill President Obama's former Senate seat, an FBI tape has revealed.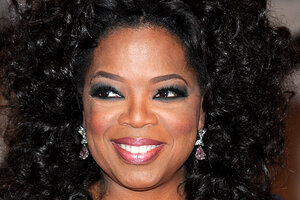 Evan Agostini/AP/File
Former Illinois Gov. Rod Blagojevich called Oprah Winfrey a kingmaker who could influence voters as he mulled naming the talk show host to President Barack Obama's former Senate seat, according to an FBI tape played Monday at his corruption trial.
"She made Obama, she's up there so high nobody could assail this pick," Blagojevich is heard telling his chief of staff, John Harris, who is now a prosecution witness.
Blagojevich had mentioned in TV interviews last year that Winfrey's name had come up in discussions about the seat. Winfrey said last year that she was "amused" by the revelation and that she was unaware at the time that she was under consideration.
IN PICTURES: Notable women in US politics
On the tape played Monday, Harris says picking Winfrey would be a mistake and he is "not sure what she stands for." Blagojevich brushes such concerns aside, saying she was obviously a Democrat and her support in the 2008 election had "made Obama."
But a few minutes later, Blagojevich is heard complaining that he needs more potential candidates. At one point, the governor considers trying to appoint Obama family friend Valerie Jarrett, even though she has withdrawn her name from consideration and taken a post as a White House adviser. And he erupts when Harris brings up former press secretary Cheryle Jackson.
---