Robert Noyce: Why Steve Jobs idolized Noyce
Robert Noyce is celebrated today with a Google doodle image of an integrated circuit - a micro chip. But Robert Noyce was more than just a great engineer, he was also a mentor to Silicon Valley entrepreneurs such as Steve Jobs at Apple, Inc.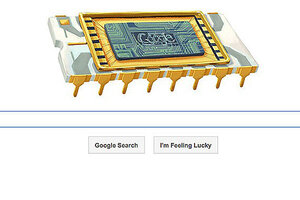 Google
Robert Noyce was the co-inventor of the microchip, co-founder of Fairchild Semiconductors and Intel Corp.
For these contributions alone, his 84th birthday is worthy of a Google doodle homage. But Noyce was also a father figure, a mentor to many key Silicon Valley startups - including Apple computer co-founder Steve Jobs.
Here's what Steve Jobs told Leslie Berlin, author of "The Man Behind the Microchip" about Noyce:
"Bob Noyce took me under his wing," Apple Computer founder Steve Jobs explains. "I was young, in my twenties. He was in his early fifties. He tried to give me the lay of the land, give me a perspective that I could only partially understand." Jobs continues, "You can't really understand what is going on now unless you understand what came before."
Ms. Berlin writes that Jobs was one of many Silicon Valley entrepreneurs mentored by Noyce after he left daily management at Intel in 1975. He served on the boards of half a dozen startup companies, and invested in many more.
In a 1990 WGBH NOVA mini-series "The Machine That Changed the World," the interviewer notes that Robert Noyce took up hang gliding at age 40. He was an inventor and risk taker. To which Jobs replies:
---