Leadership: The myth of the maverick
Does our love affair with mavericks – from Ronald Reagan to Steve Jobs – make sense?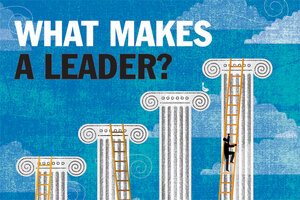 Michael Austin illustration
It's that time again: stump speeches and town-hall meetings, policy debates, and primaries about to kick off.
It's presidential election time – which means Americans are, yet again, in the season of mavericks.
It has become a ritual of American elections for politicians to pretend as if they're anything but politicians, and polls suggest voters like them better when they believe that. But this isn't simply a political phenomenon. From business to medicine to technology, America loves a visionary outsider willing to follow a dream – and break a few rules, maybe even make a few sacrifices, on the way.
"There are some people who are wired differently to say, 'Hey, I've got this thing in my heart, this opportunity in my profession, and I'm going to shake things up,' " says Jason Atkinson, an entrepreneur-turned-Republican state senator in Oregon. "That leadership style is quintessentially American."
It's why, for example, the country collectively mourned Steve Jobs, the founder of Apple, who died Oct. 5. By many reports Mr. Jobs was a difficult man with a penchant for unorthodox ways of doing things, but his technological innovations changed the world – and won global loyalty. It's also why a B-movie star with strong political convictions and communication skills – Ronald Reagan – could rise to the presidency and drive an economic and foreign-policy revolution.
---