What kind of leaders do we need?
(Read article summary)
Leadership used to be associated with gut instinct and my-way-or-the-highway command. Today's leaders know that they have to build teams -- and let teams build the future.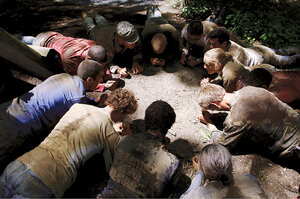 Reuters/File
Everyone admires a leader. Their biographies are bestsellers (see "Steve Jobs" by Walter Isaacson). Their tales are thrilling: How Ray Kroc scrubbed the uncertainty out of the hamburger joint; how Sam Walton struck a rich retail vein in rural America; how Estée Lauder's relentless sales effort made her uncle's skin cream a billion-dollar success.
Scholars and fans love to devise formulas for what leaders do. We read about their seven effective habits, four keys to success, six pithy sayings, and one or two life-changing crises. But leadership isn't a simple subject. As Professor Jodi Sandfort of the University of Minnesota's Humphrey School of Public Affairs told Monitor correspondent Jina Moore recently, while the best leaders start with the vision thing they never neglect the follow-through. They "mobilize the resources, implement the vision, and understand the policy of it."
If resources, implementation, and policy sound wonky, they are. Despite what the mythmakers write, leadership is not all swashbuckling and genius. If you are looking to build something that lasts – a successful organization, a prosperous business, a harmonious society – follow-through is crucial. That means meetings, deliberation, testing, revision, more meetings, and trying again.
---