Leadership: For this non-profit organization, leaving was leading
A non-profit organization founder's maverick leadership move: leaving his vision to fresh faces.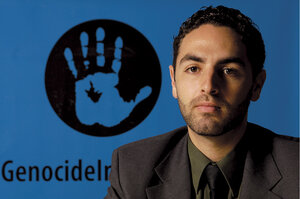 Andy Nelson/The Christian Science Monitor/file
Successful mavericks can have more in common than vision: Often, they're obsessed. Their drive keeps them focused and convinces others to join in the mission, but it can also be a liability. A leader who hangs on too long can kill a venture.
Leaders of "for-profit enterprises have a little extra push," says Cheryl Dorsey, president of Echoing Green, which invests in nonprofit leaders. "They have the specter of a big financial payout. That can coax people along."
But, she says, "there's a less clear exit path for successful founders" of ventures that never intended to make big money, she says. The tendency of founders to cling to their organizations is known in the nonprofit world as "founder's syndrome."
It's a problem that Mark Hanis, a young social entrepreneur, knows well. As a senior at Swarthmore College in 2005, he and classmates wanted to raise money for peacekeepers in Darfur, the western region of Sudan. Their idea quickly snowballed into the Genocide Intervention Network (GI-Net), a grass-roots antigenocide nonprofit organization.
Mr. Hanis and his colleague Sam Bell moved to Washington, D.C., after college and set themselves up in borrowed office space with the mission of convincing legislators to do something about Darfur.
"I think because we knew we were mavericks, we really had to understand the issues and know who the players were," Hanis says. "If we were insiders, we might not have come up with ... innovative approaches" to traditional advocacy.
By 2010, Hanis and his team had built a $3.5 million nonprofit engaged with hundreds of communities across the country to pressure American leaders to prevent or alleviate atrocities around the world.
They'd also found themselves with competition from other similarly minded groups. Competition between organizations, private or not-for-profit, often becomes fierce, as groups compete for finite resources and media and other attention. Hanis and his group took an unusual approach: cooperating with their competition – and ultimately joining them.
---