Big quarter expected for Apple, iPhone 5
Apple and its flagship smartphone, the iPhone 5, are poised for a good couple of months, according to industry insiders.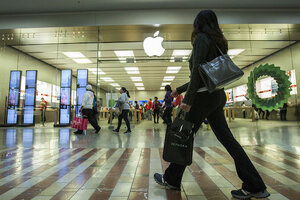 Reuters
The iPhone 5 is likely to enjoy a blockbuster winter.
That's the word this week from Sterne Agee analyst Shaw Wu, who believes that an improved production schedule and a widening market will help Apple sell 45 to 46 million iPhone 5 handsets in the current fiscal quarter. Big numbers, obviously. But as Apple Insider notes, there's reason to believe the hype: consumer interest in the iPhone 5 has remained persistently high, and Apple will soon launch the device in 50 additional countries, including Brazil and Taiwan.
"From our understanding, this is despite still robust demand due to improving yields and thus better availability and profitability," Wu wrote in a note to investors, according to Barron's.
---