Domain names turn .com into .anything
(Read article summary)
Domain names will soon become a whole lot more customizable, thanks to a new ICANN decision.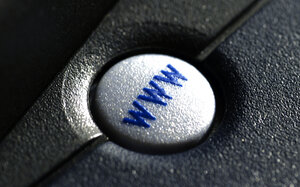 Newscom
Domain names! Right now, on the Web, there are only the usual generic top-level domain names, which you probably recognize, if you have done any Internet surfing in the last decade –– .com, .edu, .org, etc. That is about to change. This week, ICANN, the organization which overseas these kinds of things, has approved a plan to allow folks to create personalized top-level domains.
"ICANN has opened the Internet's naming system to unleash the global human imagination," Rod Beckstrom, President and Chief Executive Officer of ICANN, said in a statement. "Today's decision respects the rights of groups to create new top-level domains in any language or script. We hope this allows the domain name system to better serve all of mankind."
Lofty. But let us translate: Basically, if you are Apple, you could reserve the Web address www.iPad.Apple. If you are Burger King, you can reserve the Web address www.Whopper.BurgerKing. No .com, no boundaries. The new system will open up in 2012. The price? Very high. According to PC Mag, applicants will fork over a $185,000 fee to get the process rolling. So is this is a good idea?
---