Lytro light-field cameras: shoot now, focus later
(Read article summary)
Lytro unveiled its light-field cameras this week, which capture "living pictures" that can be refocused and otherwise manipulated after they're taken. How do Lytro cameras stack up against traditional point-and-shoot devices?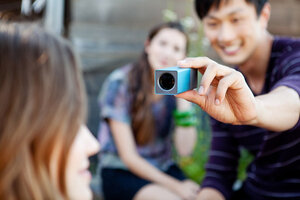 Lytro
Silicon Valley startup Lytro has a truly novel way to take photos.
A "plenoptic light-field camera" may sound like the kind of multimillion-dollar lab equipment you'd expect to find at CERN, being used for black hole research. Instead, in its current incarnation, it's a small rectangular aluminum tube that fits in a pocket and captures light rays rather than flat images, allowing you to refocus a photo after you've taken it or even see it in 3D.
Ladies and gentleman, meet Lytro. The company's much-hyped light-field camera was unveiled this week. For $399, this bit of engineering wizardry (or perhaps, we suspect, actual wizardry) can be yours. Lytro says a special sensor allows its devices to instantly capture 11 million rays of light, cataloging color, intensity, and direction of the rays. That information makes it possible for the image to be refocused and otherwise shifted after the fact – either on a computer or on the camera's 1.46-inch touchscreen. The company refers to the resulting images as "living pictures."
The Lytro cameras themselves are pretty straightforward devices. The touchscreen (which doubles as a viewfinder) is positioned at one end of the 4.4-inch tube, with an eight-times zoom lens at the other, a strip on the top for zooming, and a shutter button. That's about it, really. There's no video recording, and precious little in the way of on-board settings. The screen shows no extra information beyond the camera's battery life and a storage meter.
---