Scientists urge Senate action on global warming
In a move to shore up credibility for climate change science, American scientists and economists are asking the Senate to enact immediate legislation to reduce emissions related to global warming.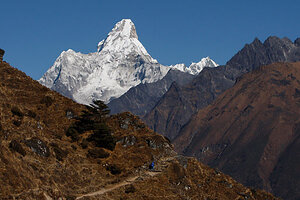 Gemunu Amarasinghe/AP/File
Two thousand US economists and climate scientists, including eight Nobel laureates, are sending a letter Thursday to the Senate urging lawmakers to require immediate nationwide cuts in greenhouse-gas emissions tied to global warming.
Emerging from a wintertime blizzard of bad press, US and international climate scientists are in damage-control mode, holding press conferences, firing off press releases, and affirming that global warming is quite real and that climate change science is up to snuff.
Despite the "climate-gate" hacked e-mail scandal and embarrassing mistakes in previous scientific reports, the bulk of research shows climate change is incontrovertible, they say.
"We call on our nation's leaders to swiftly establish and implement policies to bring about deep reductions in heat-trapping emissions," the scientists write in the letter. "The strength of the science on climate change compels us to warn the nation about the growing risk of irreversible consequences as global average temperatures continue to increase."
That letter comes on the heels of Wednesday's announcement, by the United Nations secretary general and the chairman of the UN's Intergovernmental Panel on Climate Change (IPCC), that an international independent commission will conduct an independent review of all the IPCC's "processes and procedures."
---