Himalayan glaciers gone by 2035? IPCC mistaken.
The 2035 Himalayan glacier doomsday date in Intergovernmental Panel on Climate Change (IPCC) report was a mistake, say Indian scientists. But debate continues over how fast Himalayan glaciers are melting due to global warming.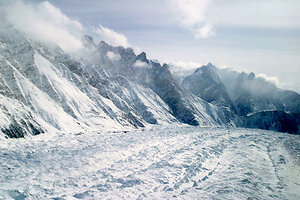 Channi Anand/AP/File
First, the good news: Himalayan glaciers are not likely to disappear by 2035, as originally claimed by a widely-publicized United Nations report.
The bad news? Scientists did not challenge the spurious date for years and some now warn that, in fact, our understanding about Himalayan glaciers rests on thin data.
Over the past week, it emerged that the doomsday date found its way into a 2007 report from the Intergovernmental Panel on Climate Change (IPCC) not from a peer-reviewed study but from an interview published in the New Scientist 10 years ago. That article attributed the prediction to Syed Iqbal Hasnain, a noted Indian glaciologist, who denies he put forth such a date.
Dr. Hasnain said this week he saw the mistake 10 years ago but did not seek a correction because it did not appear in a scientific journal. Other Indian scientists, after debunking a similar claim about melting glaciers in response to an Indian Parliament inquiry, also did not seek out the press with the information, says Rajinder Ganjoo, director of the Institute of Himalayan Glaciology at the University of Jammu.
---